Our ethos of attention to detail and sustainable design flows through to each and every aspect of the process, from the initial analysis to the final planting and on to the aftercare of the finished project if our longer term advice and support is required.
We are passionate about sustainability, climate resilience and biodiversity. Paying attention to the existing site is key, we won't remove anything without good reason and we aim to repurpose what is there whenever we can, without compromising the design style and finish.
Our planet is dominated by plants and trees and that's the way we like it! Beautiful, high end gardens are achievable without compromising on sustainability. As a case study, our 2022 Gold Medal winning garden at the Chelsea Flower Show design was entirely made out of reused or sustainably sourced timber and featured planting based on native communities but designed to be more resilient to weather extremes.
We plant our gardens with biodiversity and climate resilience in mind. Site-specific resilient planting schemes are good for the planet and can be easy to care for.
As a studio, we comply with industry standards and follow the codes of conduct for the Society of Garden Designers and the Landscape Institute.
As professional designers in the garden and landscaping industry, we believe that we're able to use our knowledge and experience to help influence change and inform the choices we make both as individuals and at community level in the face of the growing threats from climate change.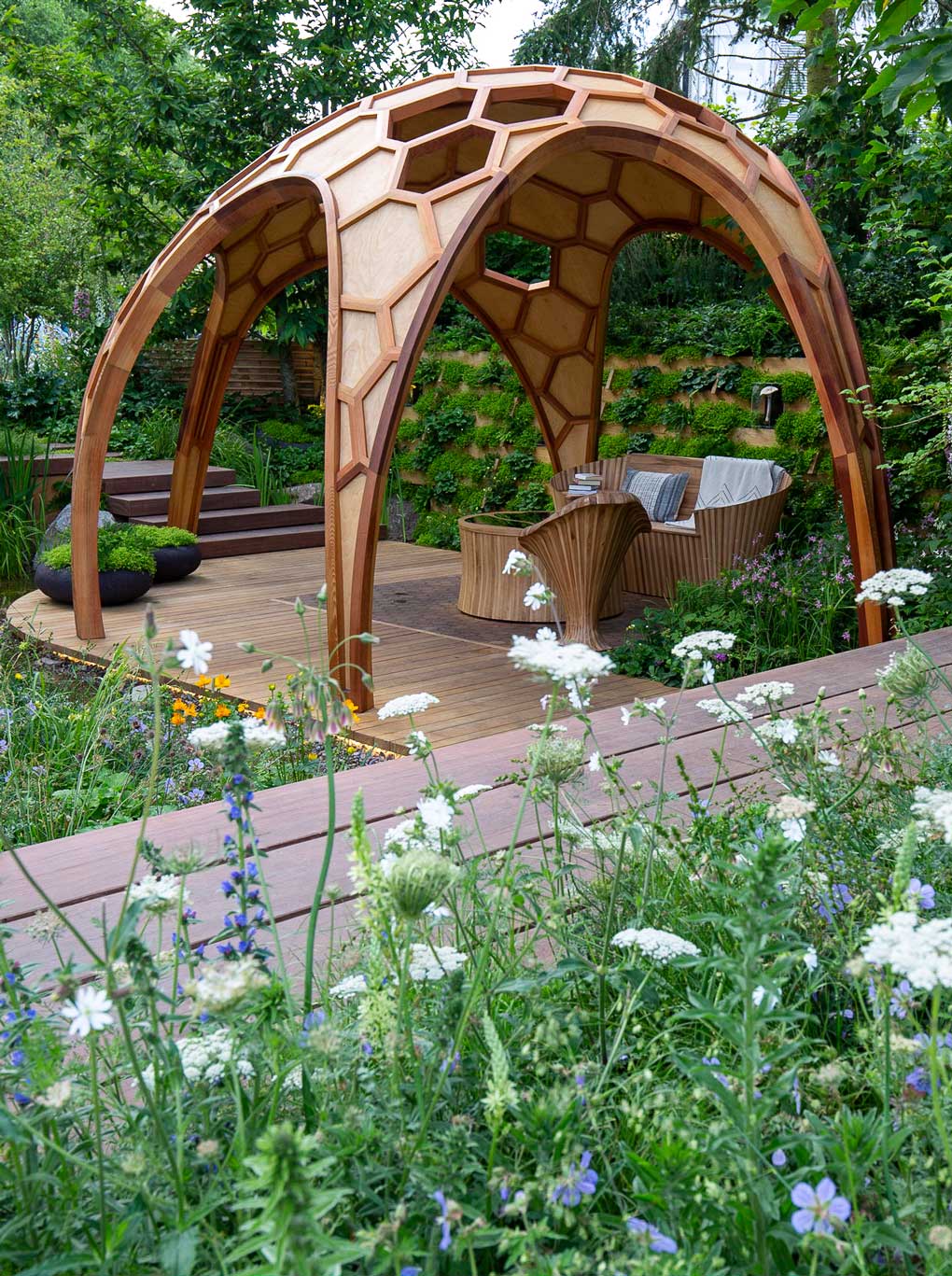 "To plant trees is to give body and life to one's dreams of a better world."
Russell Page
People
People are key to the success and enjoyment of our gardens and landscapes. That is why we listen very carefully to our clients to really find out what drives them and what they hope to achieve, whether that's in a garden setting or a wider public space.
We also believe in investing in our employees. Teamwork based on knowledge, enthusiasm and experience is the basis for the most successful and creative project outcomes. The studio offers hybrid flexible working because we believe in striking a happy work-life balance and this also allows us to reduce unnecessary travel. Ongoing training and development of staff members is crucial both for individuals and for the wider team in its aim to explore new solutions and sustainable alternatives to mainstream practices. 
We work with a trusted network of suppliers and craftspeople with whom we have built up close relationships over many years and who we trust to deliver to the highest standards.