Designing for Sustainable Gardens
Do you want to create a sustainable garden and adopt sustainable gardening practices?
In addition to gardening in a consciously sustainable way, reducing or preferably omitting use of pesticides for example, there are lots of measures we can take to reduce the negative impact of our activities on the environment, and to enhance all the positives that landscaping and gardening can bring. 
I've become increasingly interested in how we can live as part of an integrated ecosystem, where we plan and design as part of a larger living community for the benefit of our environment and in doing so improve the general quality of human life and experience. This includes but is not limited to consideration and selection of materials – local/sustainable/reusable and recycled/recyclable. 
I've summarised a few tips we can all employ, both as designers and gardeners, in a short article for House Beautiful, available
here
.
From a practical point of view, leave off cutting your grass a little longer – allowing more opportunities for foraging and pollinating insects to benefit. 'No Mow May' has been a great initiative from Plantlife; it's incredible how even reducing your lawn cut to 4 week intervals can boost nectar production from shorter flowering species by up to ten times!
Composting is another great and simple beneficial activity. Feed your soil, and everything upwards in the food chain will thank you. Making our own compost and therefore reducing the haulage miles, packaging and energy costs that come with imported material clearly has great ecological advantages, and it's much cheaper too, even if you factor in your time in making the stuff. There are lots of different systems, one of my favourites at the moment is the Hotbin because it makes the compost in about 90 days – far quicker than a cold composting method – and it is compact enough for the smallest garden.
When we think about our gardens in design terms, the choices we makes can have a profound impact on the environment. Simple things such as choosing plants from local nurseries and/or that have been grown here in the UK reduces the carbon footprint of their transportation, and could help to limit some of the spread of imported pests and diseases which are an increasing problem. Local materials can mean choosing British stone for example rather than Brazilian slate or Indian sandstone, again reducing transportation miles.
Timber is, for me, the ultimate sustainable construction material: Tactile, strong but flexible, reproducible, re-usable and recyclable, and the process of growing trees of course helps mitigate all those effects of climate change; soil erosion, air pollution, flooding; and they capture carbon to boot!
The way we choose to construct our gardens is equally as important. Using permeable paving systems to keep as much surface water as possible within our garden boundaries will counteract flash flooding and replenish our groundwater levels. There are many methods, from simple gravel to hi-tech resin bound materials and porous bedding products for paving. 
Choosing recycled materials or re-using existing materials where possible is an excellent choice. Use a designer who has the level of knowledge and the contacts to make sure that the appropriate materials are sourced and specified correctly.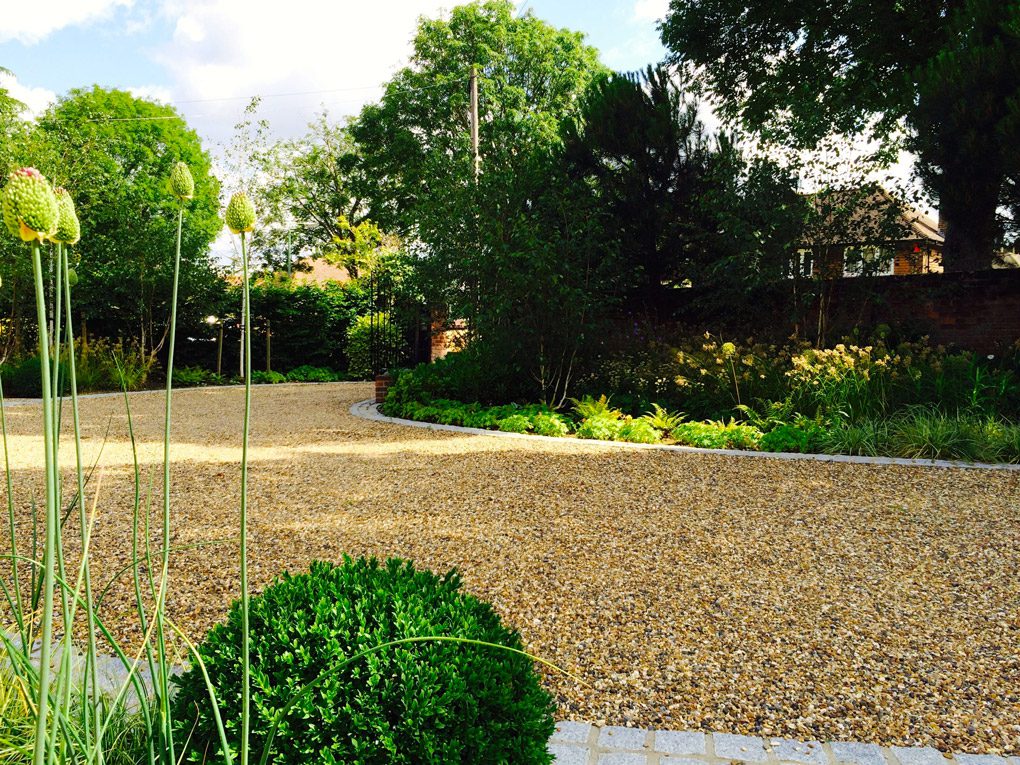 Think about the lifecycle of the materials you choose
What happens when you or someone else decides to make changes to the garden? Where will all that plastic grass go? How much energy will it take to remove and dispose of those concrete foundations?
Of course, there is a place for everything. I have worked in construction long enough to know when certain situations demand a more engineered solution. However, if we can think a bit harder about how we can reduce our reliance on primary aggregates, cement and plastics, then we will be acting more as guardians of our environment.
Read my article on House Beautiful here.
​