META GARDEN: GROWING THE FUTURE
For a second year, Meta and Joe Perkins Design have partnered for RHS Chelsea Flower Show, returning in 2022 with The Meta Garden: Growing the Future.
The garden is all about our wonderful British woodlands and forests and how we can look after and manage them to leave a sustainable legacy for future generations.
As a collective, our intention is to inform and educate our audiences of the crucial relationship between soil, fungi and plants, which together form the basis of resilient forest ecosystems. Supported by the National Forest, the garden will be rehomed post Chelsea Flower Show, as part of The Queen's Green Canopy campaign.
Read More

The garden's focus on interconnected networks between trees, plants, and the mycorrhizal (fungal) systems they depend upon is something all communities – online and offline – can learn from, feel inspired by, and share. So on a symbolic level we are highlighting the immense benefits that come from collaboration and sharing of knowledge, which is also represented by the huge number of nature-based, environmental and gardening communities on Facebook and Instagram.

In the Meta Garden: Growing The Future we are exploring the forms and structures behind this mycorrhizal network, and the beneficial relationships which exist between plants and fungi.
Fungi are so much more than food or visual reminders of decomposition. There is a vast incalculable network of fungi, known as Mycelium, under our feet which is responsible for the biodiversity, resilience and health of our entire ecosystem.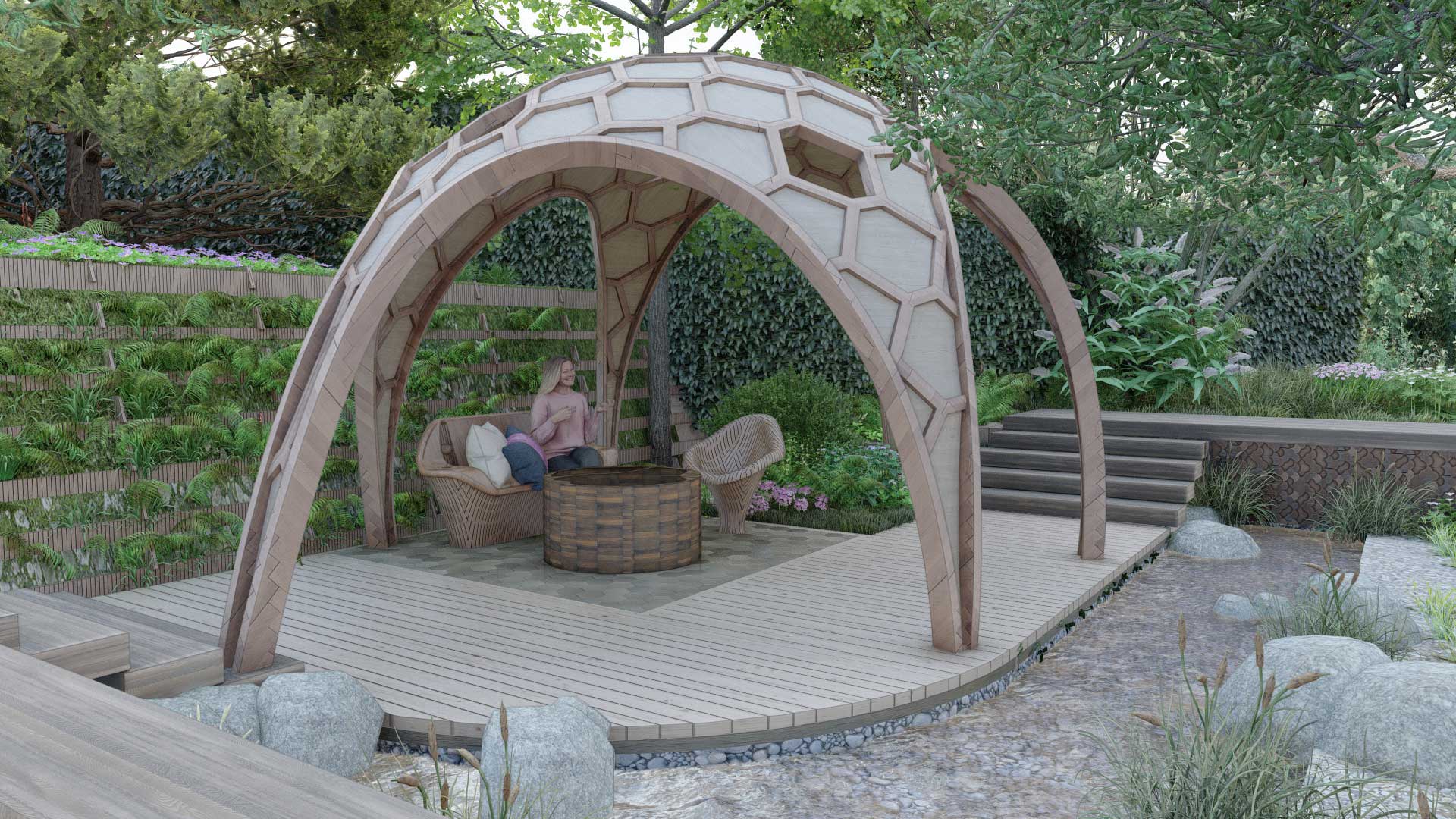 Features & Structures
All of the features and structures in the garden are made from timber, from the walls, the steps and the surfaces to the beautiful fungi-inspired pavilion and the furniture. They are all designed to be built without the need for concrete or cement, and they are all able to be dismantled and re-used or re-built quite easily.
Plants
The planting in the garden is designed to represent key habitats closely related to well managed woodland environments. There is a stylised meadow, dry turning to damp as it drops down to the stream, woodland edge habitat which is diverse and great for wildlife, and denser woodland at the back of the garden.
Fungi
In the garden we are exploring the forms and structures of fungi in the shapes of the materials and structures, in the way the garden is lit at night and in the diversity of the planting made possible by symbiotic and interdependent communities of plants and fungi.
Hyphae
Below the pavilion is "Hyphae", designed in collaboration with Cinimod Studio, Sacha Molyneux and LEDFlex, it is an artistic interpretation of an environmental mycelium network that creates an interactive road map of the beautiful forms, textures and colourful tones of fungi and makes visual the symbiotic relationship that exists between trees and fungi.
Watch video footage here »

Materials
All the surfaces, walls and structures in the garden are made from timber. We want to highlight what a beautiful, sustainable and versatile material timber can be. Some elements are from recycled material and all new timber is from sustainably managed forests.
Forests
The benefits of increasing forest cover and planting trees for fighting climate change, for wellbeing and amenity, and for sustainable timber production is central to the garden. We are using some forestry species such as Douglas Fir and Sweet Chestnut to highlight this.
Design
The garden has been designed to be a representation of elements of the British countryside within a garden setting. A stylised meadow at the front drops down to a shallow woodland edge stream, over which hangs a timber deck with a pavilion shelter. Beyond this rises a fern and moss-covered woodland bank, with a wooded habitat of trees and planting above.
Fungi
Over 90% of all land-based plant species form associations with mycorrhizal fungi, which form a kind of safety net against the leaching of nutrients from the soil and against drought. These networks support incredibly biodiverse ecosystems, and we are suggesting this by using almost 70 different species of plant in the garden to create a rich, varied and resilient representation of nature.
Fungi are fundamental to healthy and biodiverse ecosystems. They are needed to support the functioning of major ecosystem services such as litter decomposition, nutrient cycling and the storing of carbon in the soil.
Wood wide web: The fine multi-branching roots of fungi are known as mycelium, and we are discovering that these networks can be huge, covering 10's or 100's of square miles in some cases.
Electrical and chemical signals are transmitted through this network, enabling connected plants and trees to warn each other of attack by pests or disease.
Mycorrhizal fungi form a symbiotic relationship with almost 97% of land-based plants, and can deliver nutrients and water, receiving sugars in return.
Since fungi cannot photosynthesize, they are unable to make sugars for themselves and rely on plants to do this for them
Farming fungi, such as the Indigo Milk Cap could produce more edible protein per hectare than cattle farming, and at the same time the land can be planted with trees.
It is estimated that about 1.5 million fungal species exist, which is 5 times the number of plant species. Scientists believe that only 5% of all fungi have so far been discovered which makes it difficult in conservation terms to understand how best to protect them.
To date, fungi are not included in any international biodiversity agreements. The IUCU global Red-list comprises about 45,000 species; however, there are only three fungal species listed.
Materials
Each cubic metre of wood stores approximately a tonne of CO2, when used in construction projects this amount of stored carbon is effectively doubled simply by not using concrete or steel.
Integrating managed forestry and associated skilled trades and crafts can lead to development of truly local, sustainable and skilled economies.
Continuous cover forestry management allows for planned timber extraction whilst maintaining a woodland ecosystem in which human communities can function in a sustainable and integrated way.
Timber is a truly renewable and sustainable material. Young trees capture more carbon more quickly. Managed forests typically plant 2 or 3 trees for each one harvested. The UK currently has to import almost all of its construction timber, being the second largest importer in the world (after China).
Recycled timber has the added benefit of extending the time that carbon is stored within it – for as long as it remains in use.
The only other elements in the garden are natural boulders and gravel for the stream bed – it is imagined that the garden has been built around a natural woodland-edge stream
Forests
In the UK we only have around 13% tree coverage and in 2016, we were the world's second largest importer of timber for construction. Forests are a vital element in tackling climate change, helping to store carbon and providing sustainable timber for construction. Creating new woodlands in urban and rural environments is key to future proofing societies.
Carbon capture, reduced flooding, reduced soil erosion, reduced air pollution – just 4 services which trees and woodlands provide and which are tangible in terms of societal benefits and financial value
Wellbeing and recreation – access to well managed woodlands is beneficial to our individual mental and physical health, and also makes a huge difference at a community level.
Plants
We are highlighting some key native species which are facing challenges due to the extremes of climate and increased pests and diseases.
We are also exploring which plants might be better adapted to future conditions than some of our current native species.
Biodiversity is key to building sustainable and resilient plant communities which provide maximum benefit to wildlife. Fungi are key to establishing these biodiverse communities.
Features & Structures
One of the most visible elements is the timber 'crib' wall behind the pavilion. Using sweet chestnut as a framework, the wall is filled with soil and then planted to form a beautiful and flexible wall which won't crack and which can be removed at the end of the show and entirely re-used.
The boardwalk path and steps – highlight the recyclable properties of durable timber. Made from tropical Ekki, these timbers originally formed the structural part of a railway bridge over the river Camb. Having been taken down, the timber now has certification under the FSC and has a new lease of life – extending the time that the carbon it contains remains locked away. Each timber weighs over a third of a tonne!
At the centre of the garden is a fluid-shaped timber pavilion, which has been designed in collaboration with Farshad Khazei and the team at Banati Hartvig architects, and which is inspired by the beautiful forms of fungi both at a macro and micro level. The hexagonal panelling references the forms fungal threads follow as they wrap around and interact with the xylem cells of plant roots, seen under a microscope, known as the Hartig Net. The design was developed within a parametric model, using an algorithm. This means it is not a strict, final sculptural shape, but a parameter based adaptable body, which could grow, deform, inflate or shrink based on the restrictions of opportunities of the site. Just like a plant, animal or fungi responding to its surroundings.
Hyphae
Below the pavilion is "Hyphae", designed in collaboration with Cinimod Studio, Sacha Molyneux and LEDFlex, it is an artistic interpretation of an environmental mycelium network that creates an interactive road map of the beautiful forms, textures and colourful tones of fungi and makes visual the symbiotic relationship that exists between trees.
The wonder of the mycelium network is clearly a reminder that all things are connected and that there is immense power in collaboration and communication.
Plant List
Trees
Alnus glutinosa
Castanea sativa
Corylus colurna
Crataegus monogyna
Liriodendron tulipifera
Pseudotsuga menziesii
Ferns
Adiantum aleuticum (Mariesii)
Asplenium trichomanes
Blechnum spicant
Dryopteris dilatata
Polystichum setiferum Plumosomultilobum
Woodwardia radicans
Grasses
Alopecurus pratensis (Meadow Foxtail)
Anthoxanthum odoratum
Briza media Golden Bee
Carex divulsa (Grey Sedge)
Carex grayii
Carex remota
Luzula 'Snowflake'
Melica ciliata
Ruscus aculeatus
Perennials
Acanthus Rue Ledan
Allium cowanii
Aquilegia vulgaris 'Kurdistanica'
Aquilegia vulgaris
Cardamine pratensis (Ladies Smock)
Caulophyllum thalictriodes (Blue Cohosh)
Catananche caerulea (cupid's dart)
Centaurea cyanus Black Ball
Centuarea cyanus Blue Boy
Daucus carota Dara
Digitalis purpurea
Disperopsis pernyi
Disporum smithii
Disporum Green Giant
Dodecatheon meadia
Echium vulgare Blue Bedder
Euphorbia amygdaloides robbiae
Fragaria vesca
Gallium odoratum
Gallium verum (Lady's Bedstraw)
Geranium pratense Mrs Kendal Clarke
Geum Bell Bank
Geum rivale 'Tales of Hex'
Geum rivale Leonards Var
Gilenia trifoliata
Gladiolus byzantinus
Linnaea borealis
Lychnis flos -cucculi
Melittis melissophyllum Royal Velvet Distinction
Nectaroscordium siculum
Orchis mascula (Early Purple Orchid)
Ornithogallum nutans
Ornithogallum pyrenaicum
Ornithogallum umbellatum
Papaver sommiferum Black Peony
Papaver sommiferum Laurens Grape
Persicaria bistorta Superba
Polygonatum multiflorum
Primula veris
Ranunculus acris citrinus
Rumex acetosa (Sorrel)
Saxifraga granulata Meadow Saxifrage)
Selaginella kraussiana
Silene dioica (Red Campion)
Silene latifolia (White Campion)
Synthyris missurica stellata
Trollius europaeus Superbus
Trollius Lemon Queen
Viola Cornuta Etain
Viola cornuta Icy but Spicy
Viola palustris
Meta's VP of Northern Europe, Steve Hatch, said:
"The Meta Garden: Growing the Future is all about championing nature-based solutions to climate change and how we can protect our wonderful British woodlands."
"We've seen a boom in enthusiastic plant-lovers across the UK during the pandemic. Individuals and communities coming together on places like Facebook Groups and Instagram to share their tips, get inspired, and educate themselves on how we can all learn from nature to make more sustainable decisions for our planet."
John Everitt, Chief Executive of the National Forest, said:

"This is a forest of people, as much as trees, and is a forest for everyone. We are stronger growing together, as an entity, like the forest itself and the unseen mycelium that underpins its biodiversity. The networks of the National Forest are strong, and are essential to the changes we have seen over the past 30 years working with partners to create the Forest."
"We believe in the power of trees to transform people's lives and the landscape, and will be excited to see Joe Perkins's Meta garden relocated to the Forest. Many more people will be able to see it here and enjoy his interpretation of our interdependence through a forest-inspired garden."
The garden will be rehomed in partnership with the National Forest, and form part of The Queen's Green Canopy, which is focussed on planting trees to celebrate The Queen's Platinum Jubilee.
The National Forest is one of the boldest environmentally led regeneration initiatives in the country. It is right at the heart of the country, covering 200 square miles of the Midlands. Nine million trees have been planted, increasing forest cover from 6% to 22% – with woodland at around double the national average for England.
We are really excited that the garden is being relocated to the Conkers visitor centre at the heart of the National Forest, where many more people will be able to visit and enjoy the ideas behind and planting within the forest-inspired garden.
The National Forest is about and for communities, so it is fitting that the garden, in which the idea of interdependent communities is so central, should find a permanent home here.
Partners
Sponsor: Meta
Partner: The National Forest
Contributors
With special thanks to designers & makers:
Main Contractor: The Landscaping Consultants
Pavilion Collaboration: Farshad Khazei, Béla Banati, Judit Zajacz, Bodó Banati, SA-FA Design
Hyphae Feature: Cinimod Studio, Sacha Molyneaux & LED Flex
Furniture: Johnson Bespoke
Pots: Torc Pots
Art: Amanda Cobbett
Plantspeople: Alyson Hamilton & Christine Poppelwell
Water Feature: Water Artisans
Suppliers
Kelways Plants
Deepdale Trees
Ashwells Timber
English Woodlands Timber
Landscape Plus
CED Stone
Collingwood Lighting