Chelsea Flower Show 2019 Roundup
Well, we did it! An amazing team effort from so many people. The best bit for me was that everyone involved was so proud of the garden and put so much energy and enthusiasm into it – that made it a really special project for me.
Of course winning a Gold Medal at Chelsea as well as Best in Category AND Best Construction was a good bit too…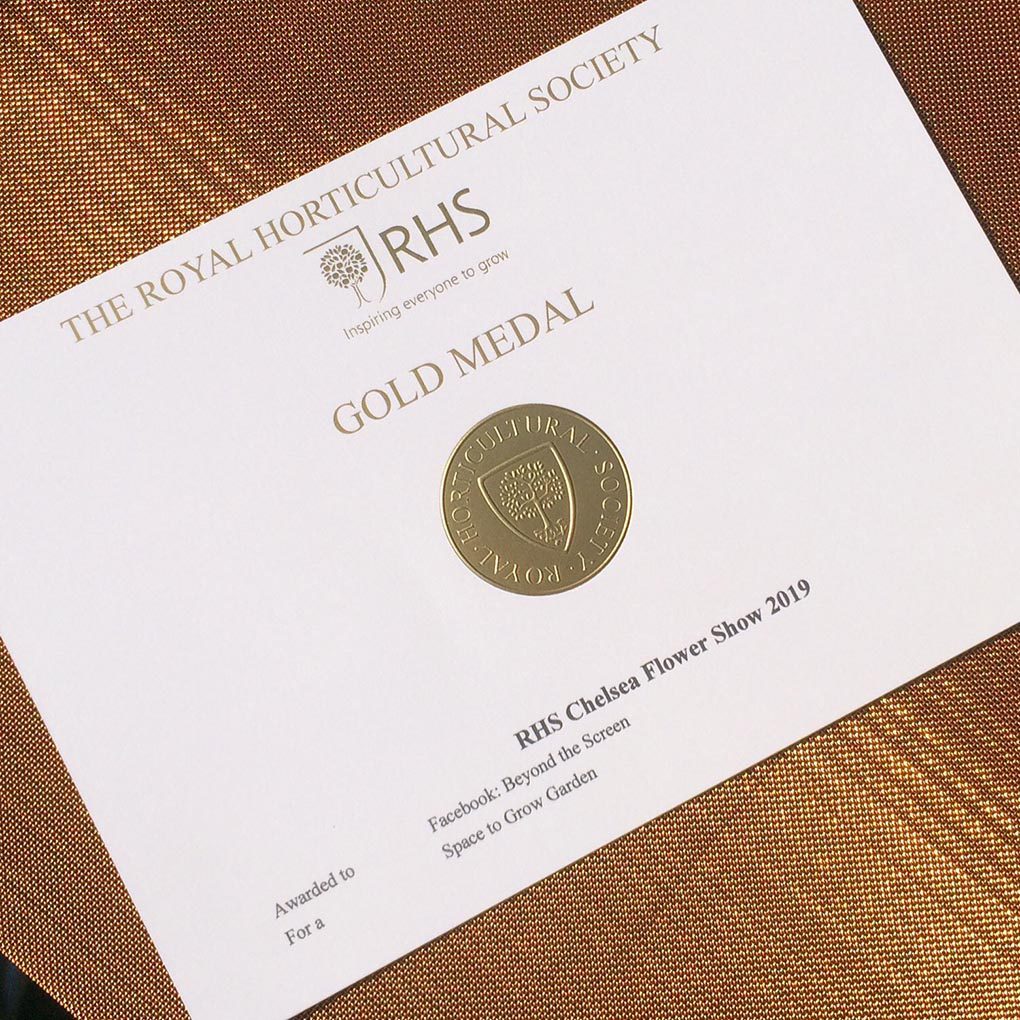 Handing out the brochures during show week alongside the Groundwork Youth volunteers was also a pleasure, although I was a bit tired by that point! It was great to hear the positive feedback from almost all visitors and great to have the chance to explain how the garden was celebrating the connections made possible through social media, and how so many community and gardening groups on Facebook are doing such positive and effective work in their communities. I hope that the garden elements will be used effectively by HS2 in their various community projects to benefit as many people as possible.
My thanks go to (in no particular order) David, Mark, Dan, Nathan and all the team at The Outdoor Room, Jake and Jordan from The Landscaping Consultants, Bamber Wallis, Toby Clayton and Grant (Hot Metal Engineering), Dave Root, Simon, Matt and all the team at Kelways Plants, Matthias and Mark at Deepdale Trees, Giles Heap and all at CED Stone, Michael, Alex and the team at Norse Stone, Cliff and Martin (Stanton and Brian), Paul at Landscapeplus, Marc (I-Echo Visualisations), Natalia, Coco and Simon for all their support, Janine and Deb from Ashwell Timber, Steve, Nicola, Vicky and the Facebook Team, the Teneo Team, Groundwork UK, Rosie Harkness (Rose Tinted PR), Pippa Martlew and Alyson Hamilton (our expert plantswomen), and lastly and in many ways most importantly, our dedicated volunteers Phil, Kirsty, Richard, Alice, Abby, Paula, Rachel, Joana, Jasmine and Eve.